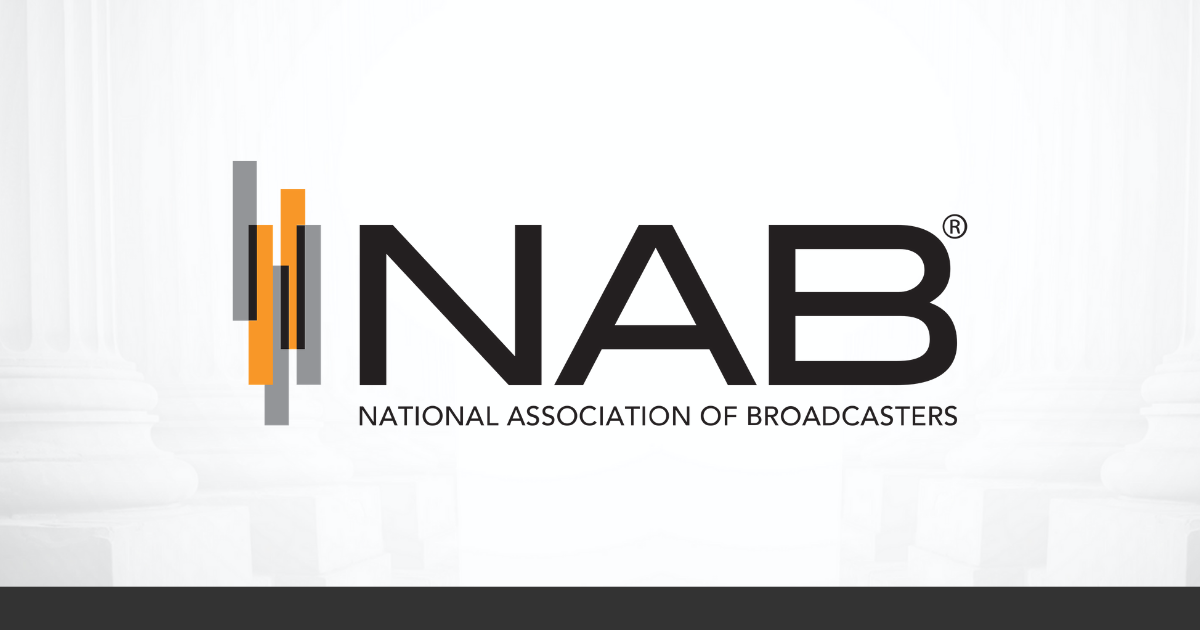 FOR IMMEDIATE RELEASE
April 7, 2015
WASHINGTON, D.C. — The National Association of Broadcasters Education Foundation (NABEF) announced the winners for the 2015 Celebration of Service to America Awards, recognizing outstanding community service by local broadcasters. Winners will be honored at the Celebration of Service to America dinner, held Tuesday, June 16 at the National Building Museum in Washington, D.C.
"Broadcasters have an unwavering commitment to serving the public," said NABEF President Marcellus Alexander. "This year's winners clearly provide local impact and are an integral part of the fabric of their communities."
This year's Service to America Awards will honor the following broadcasters:
President's Special Award
The NABEF President's Special Award recognizes historic and extraordinary achievement by a broadcaster.
iHeartMedia, San Antonio, Texas
iHeartMedia "Show Your Stripes" is a long-term effort to help guide veterans back into civilian life by highlighting their valuable training and experience. Since the program's launch, iHeartMedia has invested over $150 million in radio, digital and out-of-home resources to highlight the skills of returning service men and women and their value to employers. "Show Your Stripes" is the largest public service campaign in the company's history. The campaign spans iHeartMedia's 858 owned-and-operated radio stations across 150 markets, with each station addressing specific unemployment needs for each individual community. In addition to nationally produced spots, local radio stations produce PSAs that reflect their community. In July 2014, the company launched a 30-minute long-form public affairs show. Local stations also explored opportunities to promote and participate in regional veteran-focused career fairs.
SERVICE TO AMERICA TELEVISION AWARD
This award recognizes a television station for the totality of its efforts and its commitment to excellence in serving its community.
KING-TV Seattle, Wash.
Owner: Gannett Broadcasting
Through a combination of programming, fundraising and hands-on support, KING-TV met the challenges of 2014 head-on. In addition to supporting more than 100 non-profit organizations, raising more than $1 million for the American Red Cross and attending 170 community events, they also forged new paths with their coverage and response to local disasters. When the Oso Landslide occurred, KING helped fundraise for relief funds, got the word out about specific needs and mobilized local businesses to help. When wildfires hit, KING responded, raising money and awareness. After a student shooting at a local high school, KING aired a one-hour prime time special, pausing only for local PSAs. Finally, for their annual food drive "Home Team Harvest," KING raised 4.6 million meals. Personally invested and fierce in their involvement, KING exemplifies unwavering commitment to community service.
Category Finalists:
KVUE-TV Austin, Texas, Gannett Broadcasting
KVVU-TV Las Vegas, Nev., Meredith Corporation – Local Media Group
WMC-TV Memphis, Tenn., Raycom Media, Inc.
WRAZ Raleigh, N.C., Capitol Broadcasting Co., Inc.
SERVICE TO CHILDREN AWARDS
These awards spotlight television and radio stations for outstanding programs, campaigns and public service announcements produced for the benefit of children.
Radio
KEX-AM Tigard, Ore.
Owner: iHeartMedia
Since 1987, the KEX Kids Fund has provided eyeglasses and hearing aids to children whose families cannot afford them in 16 counties of Oregon and Southwest Washington. The program is funded primarily by donations from KEX listeners, who contribute through a four-day pledge drive that begins each year on Thanksgiving morning. The annual radiothon raises approximately $100,000, allowing the Kids Fund to meet the needs of approximately 1,000 children each year. Teachers report that students who are served by the KEX Kids Fund, given proper hearing and vision, invariably move from the bottom to the top of their classes. Since the program's inception, thousands of children have been helped and millions of dollars have been raised.
Category Finalists:
KIRO-FM Seattle, Wash., Bonneville International Corp.
WARR-FM Warrenton, N.C. Darensburg Broadcasting
WROQ/WTPT/WFBC/WSPA/WYRD-FM/WORD-AM Greenville, S.C., Entercom Communications Corporation
Television
WVIZ Cleveland, Ohio
Owner: Ideastream
The Cleveland Public School District has the second-worst dropout rate in the country, and WVIZ/PBS ideastream is helping to generate solutions. This includes broadcasting 12 hours of educational programming daily and providing educational offerings to students, teachers and parents. In 2014, WVIZ continued its work in one of lowest achieving neighborhoods in the Cleveland Public Schools. With community partners, the station provided a multiple media early literacy program, working in classrooms and in the community, even transforming a hospital clinic's waiting room into a learning lab where volunteers teach parents to read to their children and use PBS educational apps. 100 eighth graders attended a drop out conference, where college students inspired them to continue their education, culminating in a cap-and-gown ceremony. ideastream, a consolidation of eight programs and services that includes WVIZ/PBS, 90.3 WCPN and WCLV Classical 104.9 leverages its multiple media to inform audiences about educational issues with programs on the stations and resources on the web and social media.
Category Finalists:
WHAS-TV Louisville, Ky., Gannett Broadcasting
WISN-TV Milwaukee, Wisc., Hearst Television
WJLA-TV Washington, D.C., Sinclair Broadcasting Group
SERVICE TO COMMUNITY AWARDS
This category honors radio and television broadcasters for individual campaigns, projects or programs that serve the public good or otherwise provide exemplary service to their local communities.
Radio
WCCO-AM Minneapolis, Minn.
Owner: CBS Radio
Through PSAs, events and fundraisers, WCCO helped the hungry through year-round outreach. With "Let's Kick Hunger Day," WCCO engaged listeners, celebrities and charity groups to replenish food shelves across 59 counties. Teaming up with local congregations, civic groups, corporations and listeners, WCCO helped power the month-long Food Share campaign, the largest food drive in the country. In partnership with the National Association of Letter Carriers, WCCO supported the "Stamp Out Hunger Food Drive," which collected 1.73 million pounds of food. Finally, the 11th Annual Union Gospel Mission radio-thon featured stories of those whose lives had been touched by such efforts and broke a new record, providing help for the homeless, poor and addicted.
Category Finalists:
WGFB/WRTB/WXRX/WNTA Rockford, Ill., Mid-West Family Broadcasting
WRJC Mauston, Wisc., Murphy's Law Media Group LLC
WSOY-AM Decatur, Ill., Neuhoff Communications
Television
Capitol Broadcasting Co., Inc., Raleigh, N.C.
Capitol Broadcasting Co. (CBC) has been working for almost a year on a domestic violence initiative called "eNOugh NC". The effort includes a domestic violence task force charged with building local and national awareness of this issue that impacts one in four women. Through a collaboration with local government partners and agencies, CBC-owned WRAL and WRAZ held a televised panel discussion with survivors and thought leaders, created a website for abuse victims, ran more than 2,000 PSAs, posted TV and Internet ads, conducted a social media campaign, aired a half-hour documentary and held a three-hour phone bank, taking 400 calls from across eight states. In addition, within 36 hours of the Ray Rice story breaking, WRAL devoted 2.5 minutes of advertising inventory to CBC-produced PSAs during the national premiere of Thursday night NFL game. These 60- and 90-second PSAs featured the men of CBC, speaking out against domestic violence.
Category Finalists:
KVVU-TV Las Vegas, Nev., Meredith Corporation – Local Media Group
WCHS/WVAH Charleston, W.V., Sinclair Broadcast Group, Inc.
WLTV Miami, Fla., Univision Communications Inc.
WTAE-TV Pittsburgh, Penn., Hearst Television Inc.
About The Celebration of Service to America Awards
The Celebration of Service to America Awards are sponsored and produced by NABEF with major support from Hubbard Broadcasting, Inc., Bonneville International Corporation, and the National Association of Broadcasters. In recent years, Paul Simon; Stevie Wonder; Glenn Close; Jeff Bridges; Quincy Jones; Sir Elton John; Bill Clinton; Laura Bush; Muhammad Ali; Jimmy and Rosalyn Carter; and Nancy Reagan; among others, have been presented with the Celebration of Service to America Leadership Award at the event. Details about the Celebration of Service to America Awards are available at http://www.nabef.org/events/sta.
About NABEF
The National Association of Broadcasters Education Foundation is a non-profit organization dedicated to reinforcing the future of broadcasting through a commitment to education and to advancing excellence in the diversity and community service efforts of our industry. Learn more at www.nabef.org.
About NAB
The National Association of Broadcasters is the premier advocacy association for America's broadcasters. NAB advances radio and television interests in legislative, regulatory and public affairs. Through advocacy, education and innovation, NAB enables broadcasters to best serve their communities, strengthen their businesses and seize new opportunities in the digital age. Learn more at www.nab.org.
Article Courtesy NAB